Buffalo Transportation Pierce-Arrow Museum................. E. R. Thomas/Thomas Flyer - Table of Contents

The Buffalo Transportation Pierce-Arrow Museum: E. R. Thomas
263 Michigan Ave. at 201 Seneca St., Buffalo, New York
(Museum Official Home Page)
2017 photos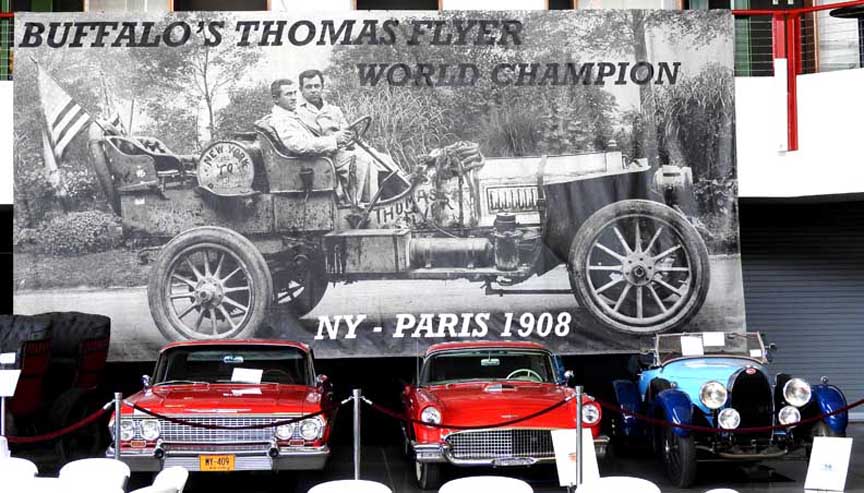 ---
---
---
---

1909 Thomas Flyer Flyabout
5 Passenger
6 Cylinder / 40 Horsepower
3 Speed Manual Transmission
267 Cubic Inch
Price in 1909: $4,900
Edwin Ross Thomas (1850-1936) sold gasoline propulsion gear for bicycles in 1896. From 1900 to 1913, Thomas manufactured automobiles at the factory at
1200 Niagara Street, Buffalo, NY
. The building is used today as headquarters for Rich Products.
In 1908, a Thomas Flyer driven by George Schuster, a test driver and factory inspector, beat out six competing cars from three other nations in the 22,000 mile, New York to Paris Race. The race began in Times Square on February 12, 1908. 169 days later, George Schuster arrived in Paris to win the world record.
---
---
---
Special thanks to Founder and Executive Director James Sandoro and Mary Ann Sandoro for their cooperation
---
Photos and their arrangement © 2017 Chuck LaChiusa
| ...
Home Page
...| ..
Buffalo Architecture Index
...| ..
Buffalo History Index
... .|....
E-Mail
...| ..