Buffalo Heritage Carousel
44 Prime Street, Canalside, Buffalo NY
On this page below:
Russell J. Salvatore Heritage Corner
Queenseyes, "Earth Activist: Joan Bozer"
Exterior
---
---
Detailed below: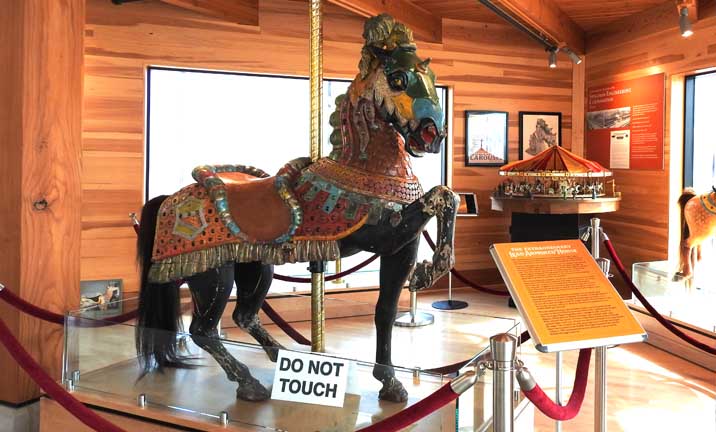 Larger size below:

Two details below:

Detail #1

Detail #2
---
---
This past Friday, the Buffalo Heritage Carousel held a dedication for "Friend of Buffalo," Joan Bozer. Joan was one of the key people that helped to bring the solar-powered Buffalo Heritage Carousel to the waterfront. She was not only a fervent Friend of Buffalo, she was also a stalwart friend of the environment, who tirelessly pushed for more sustainable practices.
...

Years later, Joan called to tell me about an idea that she and a couple of her friends had dreamed up. Of course I'm referring to the Buffalo Heritage Carousel that now sits proudly, front and center at Canalside. The funny thing is, when she first told me about the Carousel, I had no doubt that she was going to pull it off. She was ambitious and driven, there is no doubt. She also had a way with people, which meant that they listened to her. If Joan was passionate about a concept, it meant that everyone was "all ears," and ready to lend a hand.


On Friday, May 19, the Buffalo Heritage Carousel dedicated one of the animals on the carousel to Joan K. Bozer for her inspiration, unwavering faith and enthusiasm that Buffalo deserved a solar powered carousel on its revitalized waterfront.

This dedication would not be possible without the generous support of The Baird Foundation, Catherine Schweitzer, and Joan's many friends.
Interior


Detail below:


Detail below:


---
---

Detail below:
Detail

---
---

Details below:


Detail #1


Detail #2

---
---
Photos and their arrangement © 2023 Chuck LaChiusa
| ...
Home Page
...| ..
Buffalo Architecture Index
...| ..
Buffalo History Index
... .|....
E-Mail
...| ..



web site consulting by ingenious, inc.